Man it's cold here in Boston, spending the week at the Demo conference in Palm Desert, CA would have been fun but there's too much work to do at Lookery for any time in the sun.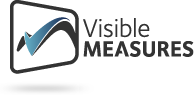 Visible Measures (VMC), a company I'm an advisor to, launched their Video Audience Measurement product this week at Demo 08.
The Audience Measurement product works by having video publishers instrument their video players with a VMC measurement plugin, think Google Analytics for Video. VMC's measurement plugin is then able to collect behavioral data such as how long users watch and how much attention is spent on every video played with thier player.
VMC also allows video publishers to combine third-party data sources such as demographic and geographic overlays with each video's usage data. Tying in Lookery Demographic data here would be a natural fit and something I need to follow-up with Brian and Rishi on.
You can imagine that capturing every video event (fast-forward, play/pause, forward to a friend, rewind, etc) could lead to a huge scaling problem both from a capture and analysis standpoint. When Brian asked me if I knew anyone in Boston that really understood how to design BIG ASS™ data services I immediately thought of Chris Gillett. Chris G. was my Chief Software Architect at Compete for over 5 years where he designed a lot of our large-scale data processing systems. Chris G. joins a great technical team that includes Chris Paul, John Saitta and Peter Winer.
VMC also announced this week the closing of $13.5 million Series B round led by Mohr David Ventures and General Catalyst.