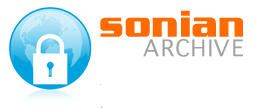 Sonian Networks, a company that I am an advisor to, is publically launching their Sonian Archive (SA2) product this week.
Sonian is Greg Arnette's latest creation. I met Greg at a Ruby on Rails workshop back in 2006. Greg had just sold his company Intellireach to Infocrossing and was thinking about his next big idea, specifically how to take advantage of new on-demand infrastructure services to build highly efficient IT services.
Sonian's first product, Sonian Archive (SA2), is an on-demand message archiving service. Put simply SA2 plugs into your exisiting messaging (email++) infrastructure (MS Exchange, Google Apps, Zimbra, Lotus Notes, etc) and automatically archives all of your organization's mailboxes offsite.
Now this isn't simple on-demand email backup software, SA2 scales as your mail volume grows, uses U.S. Defense Department level encryption, provides compliance management tools and doesn't move any of your data offline, all data is fully searchable at all times.
SA2's compliance tool allows administrators (with proper permissions) to open a new investigation and search an employees email. All investigations are logged to provide an audit trail everytime anyone's email is searched or viewed.
I love Sonian's architecture stack. All but one monitoring machine is hosted on Amazon's EC2 web service with all permanent storage running on Amazon's S3 web service (just like us at Lookery). Sonian's software stack includes Ruby, C++, Nginx (my favorite web server/proxy), MySQL, Lucene and Ruby on Rails. I prefer Python but that is still a tasty stack.
Congratulations Team Sonian!!
Free trial accounts are available this week.