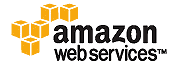 Andy Payne has organized a Virtual/Hosting/EC2 Birds-of-a-feather meet-up for tomorrow morning (May 21st) in Waltham, MA.
We'll be comparing notes and experiences on virtual hosting options (e.g. EC2). Thanks to Matrix Partners for hosting us at their offices.
I'll be giving a short presentation on how we've been using EC2 at Lookery. I'll post my presentation here after the meet-up tomorrow.
If you're interested in attending let me know.